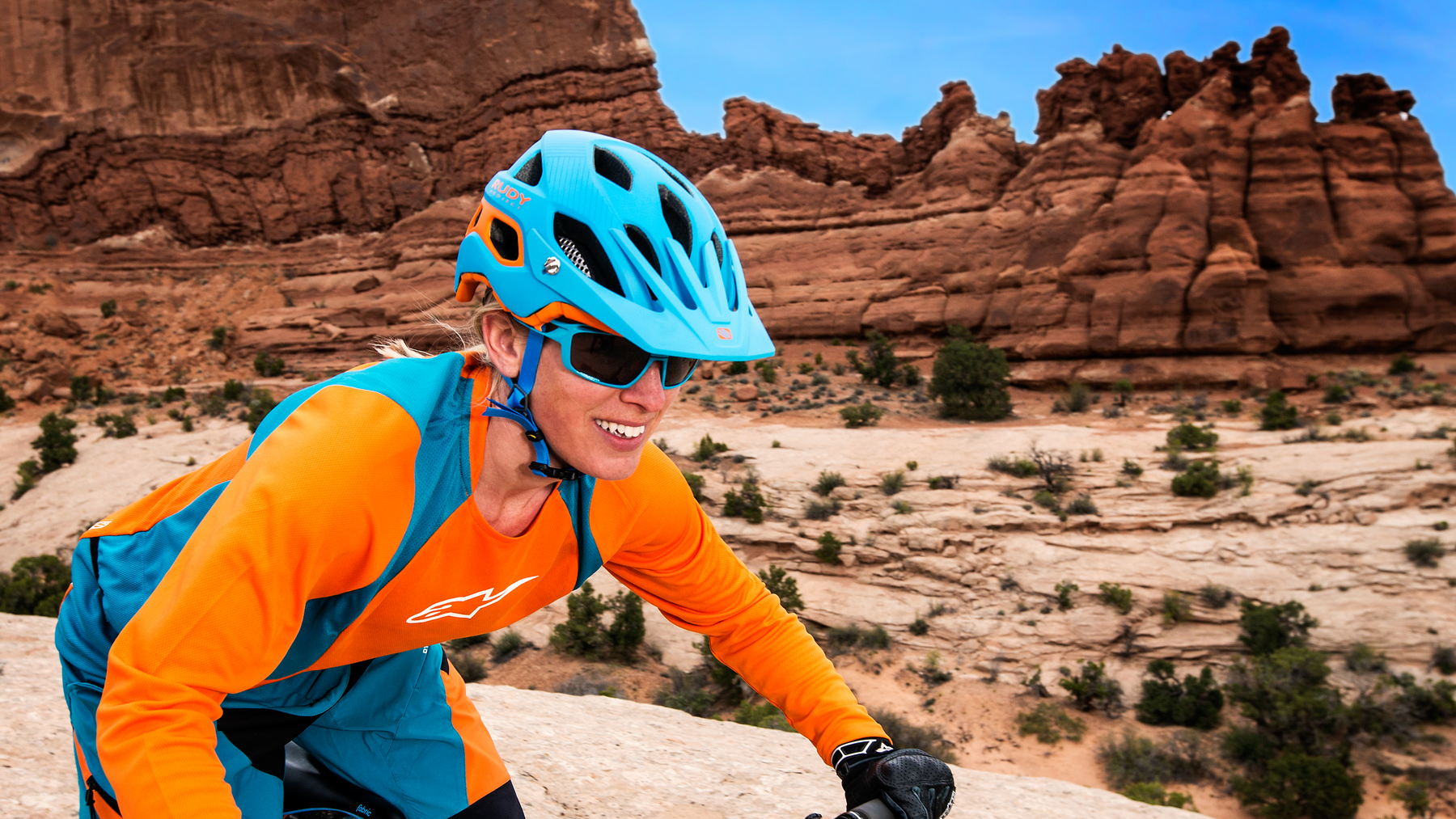 Rudy Project Drops into the Mountain Bike Scene with a New Breakthrough Helmet and Sunglass Combo
The independent Italian family brand takes sleek styling and killer lens technology off road.
Rudy Project, an Italian brand well known for setting helmet records at Kona and winning countless awards for their Italian-made performance eyewear, announced a new mountain-bike specific helmet and performance sunglasses combo for 2018. The new mountain bike helmet, the Protera, draws from Rudy Project's years of experience protecting some of the most extreme endurance athletes on the planet. The new mountain bike-specific Sintryx sunglasses feature a new innovative quick-change lens system and sport fully integrated ventilation and adaptive tips for complete helmet compatibility.
"Rudy Project is dedicated to elevating the performance of athletes everywhere, and we've been developing the Protera and Sintryx with feedback from athletes all over the world," said Paul Craig, Co-CEO and Co-Founder of Rudy Project North America. "While our helmets have always been popular with athletes in road, triathlon, and mountain bike pursuits, we've been listening to input from athletes asking for more coverage on the back of their head while still getting all of the features they love. We worked hard to develop a helmet that's light, comfortable, adjustable, and can take a beating while expanding our sunglass line, particularly with the revolutionary new Sintryx."
The Protera's molded EPS liner is topped with a sturdy construction poly shell in case of impact. Inside the helmet, the RSR 9 Retention System and Divider Pro side buckles, features seen on Rudy Project's RaceMaster and Boost 01 helmets, make it effortless to dial in a comfortable, customized fit. Riders can leave in Rudy Project's trademark Bug Stop Net as a barrier against pesky wasps and bees or swap it for the available free pads constructed with Dry Foam and X-Static antibacterial pads for efficient wicking. Ideal for enduro and cross country shredders, as well as XTERRA off road triathlon competitors, the edgy, compact  geometry is designed for those who demand the highest level of protection and delivers the perfect balance of lightweight fit, style and ventilation for technical rides.
The Protera also features removable, interchangeable chin straps. The straps can be removed either to clean or to swap with other colors to customize the look of the helmet to match team colors, making it a truly customizable piece of equipment.
Complementing the brand new Protera is feature packed pair of sunglasses called the Sintryx, a dual-lens, full-coverage frame that offers high-wrap protection and uninterrupted peripheral vision. A single push on the spring-loaded central logo releases the lower half of the frame, allowing the lenses to be removed without putting stress or pressure on the lenses or frames.  Sporting fully integrated ventilation thanks to the Power Flow System™ and Adaptive Tips for helmet compatibility, the Sintryx also introduces the Ergonose XI – a nosepiece specially molded and coinjected with two polymers for sweat-proof grip and comfort. The Sintryx is fully Rxable, either direct in frame or with an optical insert, and is available in multiple lens configurations including ImpactX-2, the world's most advanced photochromic lens technology, or Rudy Project's new Polar 3FX HDR polarized lens technology, both engineered to ensure unbeatable eye protection and visual clarity.
"This is new territory for us because a lot of people know Rudy Project as a road and triathlon brand," said Simone Barbazza, Director of Global Marketing. "But it's not new territory in that we have been providing athlete protective equipment since 1985, and we know that athletes will appreciate the performance-elevating technology that goes into our products. Being an avid mountain biker myself, I could not be more  excited we have come out with an amazing helmet and sunglasses solution for all my mountain biker buddies."
The Protera helmet and Sintryx sunglasses come in a collection of colors that includes both eye-popping and subtle shades. The Protera lineup also includes colors exclusive to North American markets, such as a Pink Fluo Cyan combo. The Sintryx comes in a brand new Fire Red Gloss, Carbonium, White Gloss, Ice Graphite Matte, Matte Black, and Azur Gloss, with multiple RP Optics and ImpactX-2 Photochromic lens options. The Sintryx also features Rudy Project's next generation Polar3FX lens line– the HDR series offeres hydrophobic coatings and a mirrored finish for true color perception and eliminated glare.
The Protera comes in four colors and two available sizes: Sm/M (54-58 cm or 21.2-22.8 in) and Large (58-61cm or 22.8-24in). The Sintryx's nine lens and nine frame configurations can be combined endlessly to give everyone their own custom look. Standard configurations can be found at www.rudyprojectdealer.com and at authorized Rudy Project dealer locations.