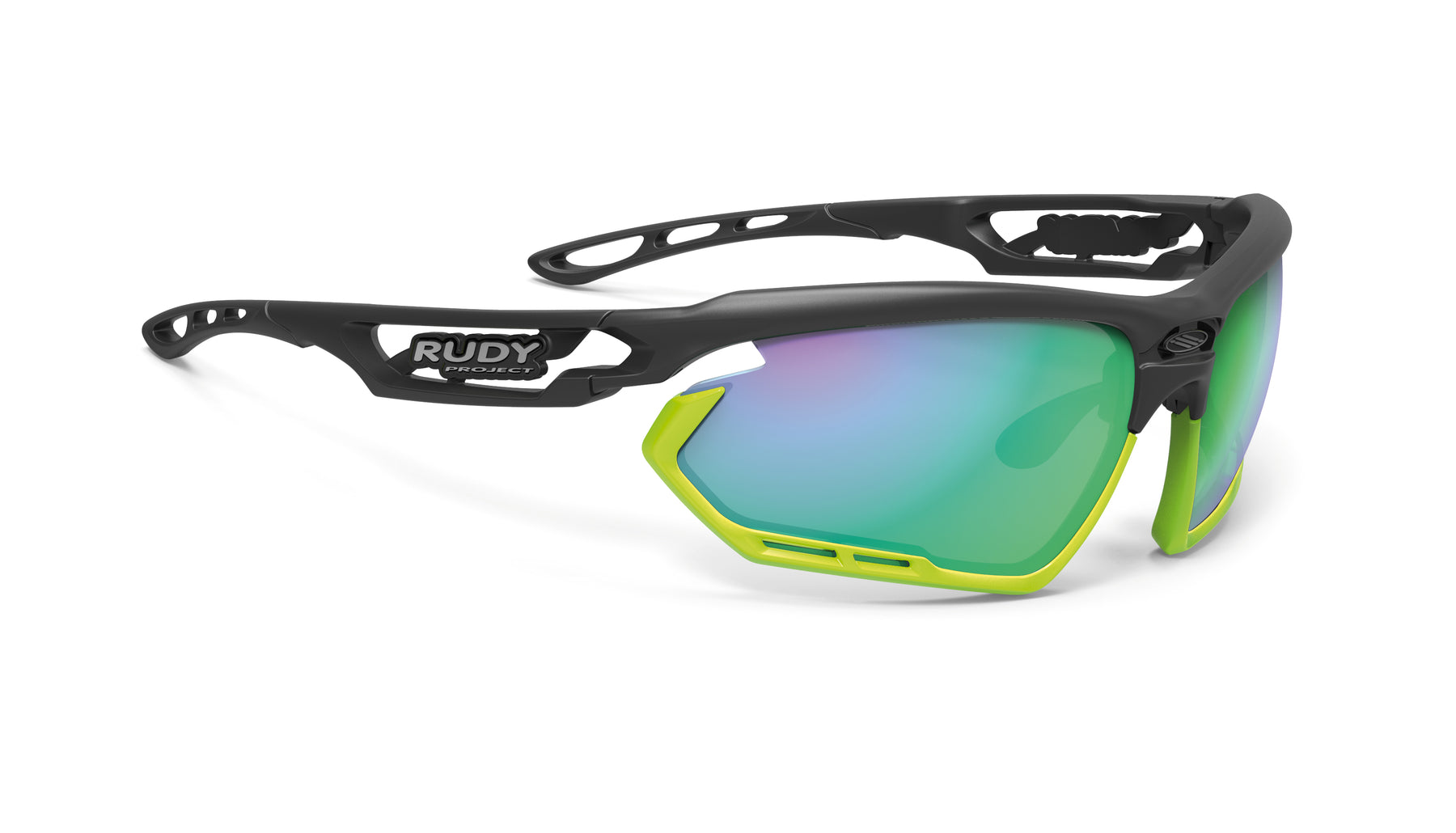 The Performance Edge You Can Actually See: Rudy Project's Next Generation Polarized Lens Technology
New Polar 3FX HDR line delivers optimized wavelength filtering
A leader in sports eyewear technology and materials, Rudy Project is introducing the latest advancement in polarized lens technology: the brand new Polar 3FX HDR line.  After years of intense research and athlete feedback, the new Polar3FX HDR polarized lenses are the perfect match for demanding athletes and sports enthusiasts. The research-based, proprietary lens technology protects the wearer's eyes from harmful UV rays and eliminates annoying glare by selectively filtering non-harmful wavelengths through the lenses allowing for enhanced color and visual acuity. By tuning specific wavelengths of light and optimizing the color spectrum, Rudy Project's Polar 3FX HDR lenses are engineered to maximize color recognition in a wide range of light conditions while keeping colors true and eliminating hyper distortion.
"The new Polar 3FX HDR lenses are the latest addition to our lineup of industry leading lens technologies and will be a game changer for us," said Paul Craig, President and Co-Founder of Rudy Project North America. "Coupled with our ImpactX-2 unbreakable fast acting photochromic lenses, athletes and weekend warriors alike will have a whole array of superior lens choices when they want to elevate their performance in harsh and variable light conditions."
The new lens offering dramatically enhances Rudy Project's popular Polar3FX technology and gives it a  boost from newly incorporated HDR (high dynamic range) filters and an advanced new coating aimed at making the lenses more smudge-resistant and immune to UV degradation, with hydrophobic features that force water to bead on the lens surface to make cleaning quick and easy. The Polar 3FX HDR lenses are engineered to maximize the wearer's perception by improving color recognition and enhancing contrast while filtering glare from sunlight, and harsh glare due torefracted light from wet or shiny surfaces such as water, snow, and asphalt, making them ideal for water sports, snow sports, and anyone putting in miles on the road. The HDR filter is designed to relax the eye, so that urban, mountain, and road bikers alike experience enhanced visual acuity on the road, and are able to react to obstacles or changing conditions.
The new Polar3FX HDR line is available in four aestically appealing and popular mirrored colors: Multilaser Red, Multilaser Orange, Multilaser Green, and Laser Grey. The HDR lenses will be available in  the new 2018 Sintryx, the popular Fotonyk, and Rudy Project's flagship Rydon.  Current sunglass owners can also purchase the lenses separately as a replacement lenses. With the new Sintryx, wearers will be able to swap effortlessly from RP Optics to ImpactX-2 fast-acting photochromic lenses to Polar3FX HDR lenses using the sunglass's revolutionary lens release system, making the Sintryx ideal for the true multisport athlete seeking a versatile and functional sunglass.
The Polar 3FX HDR line is covered by Rudy Project's unbeatable lifetime Replacement Lens Guarantee – "you scratch 'em, we replace 'em" policy. Customers who purchase their lenses from any authorized Rudy Project retailer in North America can send back scratched lenses at any time, and get a replacement set for a nominal shipping and handling fee. The Lifetime Replacement Lens Guarantee coupled with  Rudy Project's 3 Year Frame warranty provide one of the best dual sunglass policies in the eyewear industry. Coupled with Rudy Project's 6 Year Crash Replacement Guarantee on all helmets, the RLG is one of many customer friendly policies that sets Rudy Project head and shoulders above the competition. Contact your Rudy Project sales representative today to experience the new Polar 3FX HDR line today.