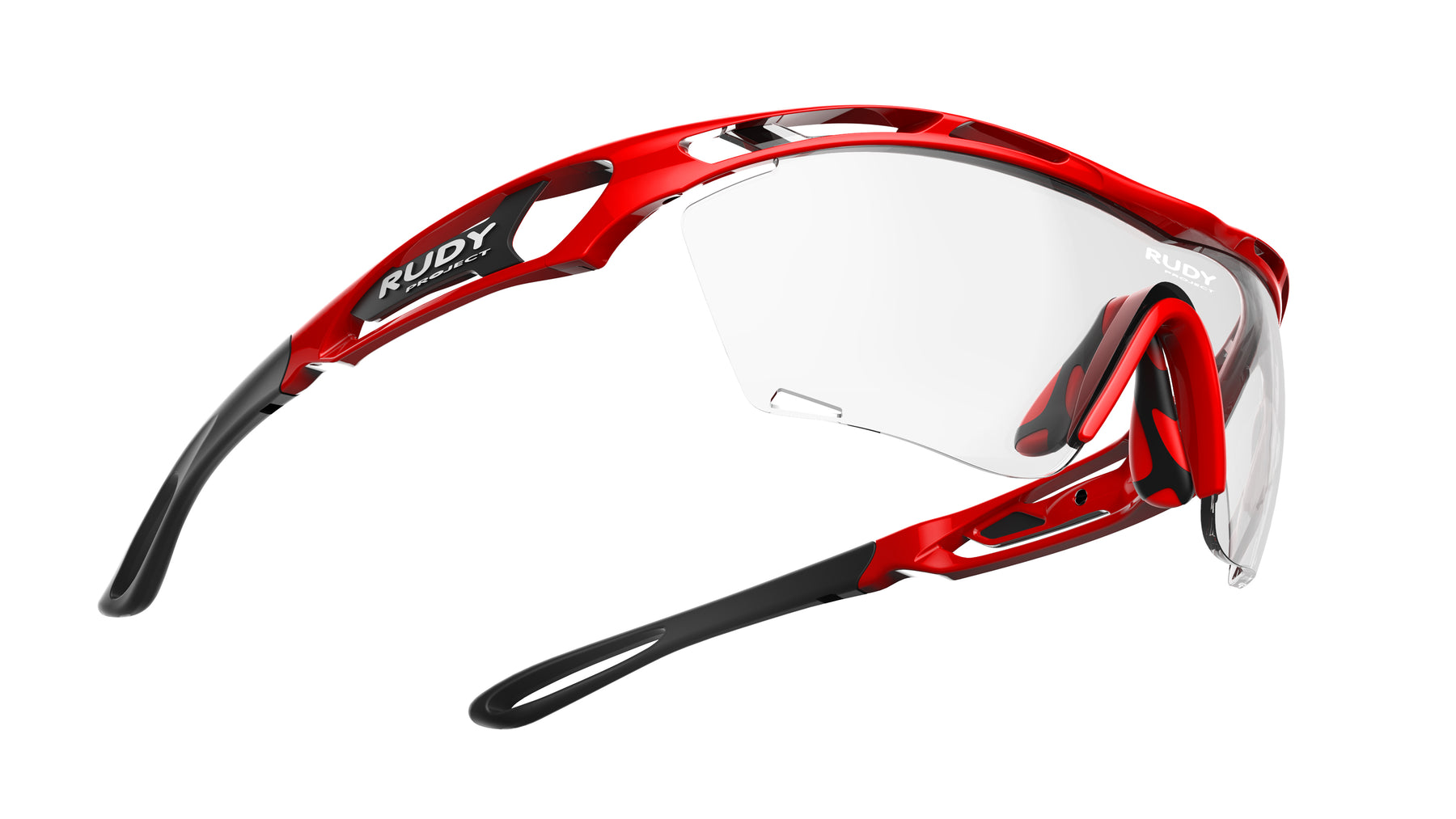 Rudy Project Unveils New Tralyx SLIM, Turns Heads
Italian-Made, Athlete Tested - Perfectly Designed For Smaller Faces
Rudy Project, crafters of Italian-made, awarding winning performance sunglasses, helmets, goggles, and prescription solutions, is expanding the Tralyx sunglass family on the small side.  After extensive research and input from thousands of athletes, the Design and Tech Team at Rudy Project is unveiling the new Tralyx SLIM. The single-lens, shield-style performance Tralyx sunglass debuted in 2015 and was hailed by athletes as the apex of performance eyewear engineering, complete with adjustable temple tips and nose pads, and an ultralight frame equipped with Power Flow venting for a fog free fit. The new Tralyx SLIM is geometrically engineered with a narrower and slimmer profile, perfect for smaller faces.  As the newest member of the Tralyx family, the SLIM is distinctively smaller than its larger namesakes, the Tralyx and Tralyx XL, and incorporates the exact same features that won Triathlete Magazine's Best in Fit.
"The Tralyx has been hugely popular, appearing on the faces of champions like Sarah Crowley, Andy Potts, and Alberto Contador, to name a few, and has earned praise and countless awards for its aesthetics, performance characteristics and simple elegance," said Paul Craig, President and Co-Founder of Rudy Project North America. "The Tralyx SLIM allows almost everyone to enjoy the exact same design and features of our iconic model, just in a smaller package which makes it the perfect performance sunglass for smaller faces."
The slimmer frame is engineered to guarantee a comfortable fit for athletes with narrower faces, and the flexible temple arms and adjustable ErgoNose IX nose piece ensure a comfortable fit for all types of athlete profiles. Enhanced by Adaptive Tips during athlete testing, the Tralyx has received overwhelmingly positive feedback on comfort and clarity. Athlete comments and feedback praised the seamless eyewear integration in  Rudy Project's proprietary helmet Eyewear Garages or traditional helmet vents. Incorporated features like the Tralyx's Power Flow Venting make it easy to see why the frame has been awarded Ultra Running Magazine's Most Innovative Product award, Cycling Active Magazine's Best on Test, and BIKE Magazine's Top Choice – 5 out of 5.
"The slimmer profile allows for a sculpted, more comfortable fit for women, youth athletes and smaller faces in general," said David Michaud, Rudy Project's Lead Designer. "We wanted something that fit slimmer faces even better, so that our athletes can have a choice as they look for a sunglass that is light, comfortable, and incorporates all the key features of our Tralyx and Tralyx XL."
The Tralyx SLIM, like its big brother, looks as if it has been 'literally sculpted by the wind,' with a frame that sweeps back from the brow over the nose bridge, and incorporates large vents all through the architectural frame for maximum heat dissipation. Fans of the Tralyx will not be disappointed, the Tralyx SLIM uses the same hardware and adjustable temple tips and nosepieces for an extraordinary custom fit, while still boasting an aerodynamic flow and structure with an unobstructed field of vision. The frame also features quick change interchangeable lenses – athletes looking to swap between race-worthy RP Optics Multilaser lenses and proprietary ImpactX-2 photochromic options can do so easily. A gentle tug in the middle of the frame is all it takes to remove the lens from the frame, and new lenses can be easily secured by placing the lens corners in the frame at either end, and then snapping the lens tab into the slot in the middle of the frame.
The Tralyx SLIM comes in 5 popular frame colors, Matte Black, White Gloss, Yellow Fluo Gloss, Rubin Gloss, and a brand-new Fire Red Gloss, and 4 lens colors including Rudy Project's award-winning, unbreakable ImpactX-2 Photochromic lenses in Clear to Black and Clear to Laser Black. The entire line can be found at www.e-rudy.com, and at any Authorized Rudy Project Retailer nationwide for $249.99 to $274.99 depending on lens choice.